This past Saturday was our first home game of the season, and we (of course) threw down
Pirate
style at our tailgate opener! The day started out great... didn't end so well though.
Halfway through the first quarter, Josh and I decided the 105 degree heat index was a little too rough and we needed some more water. As we were heading down our row, a guy in hiking shoes stuck his foot out right as I was lifting my foot for a step. The shoe caught my pinky toe, pulling it back so hard it
broke
. (I have the worst luck).
I couldn't even make it back up the steps, we had to leave the game before it was even started good. Not a happy pirate.
But.. here are a few good shots of the fun times of the day!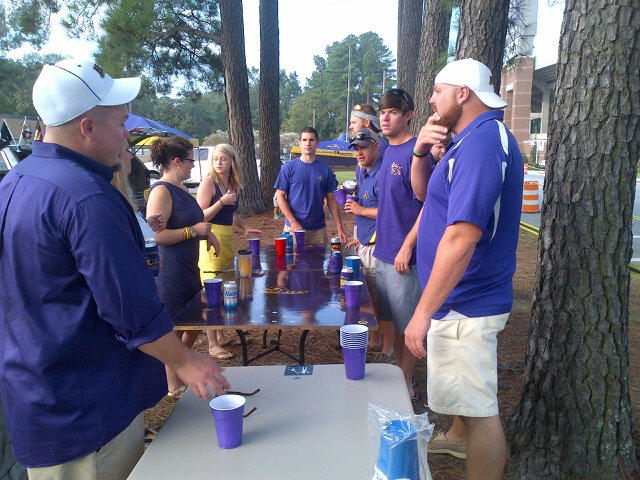 inaugural flip-cup game... at 8am
Pirate ladies
Hope, Me, Gretchen, Kate, Laura & LP
Joshua & Me.. don't know why I thought it was a good idea to button that cardigan.
welcome to Pirate nation and the throw-down before the beat-down
you see that guy in the white hat and purple button-up? he has the BEST stories
example: here he is telling us how he punched out a guy in front of a news camera one time. priceless.
don't let the smiles fool you, Hope is intense when it comes to flip cup
sister
Pee Dee the Pirate making his way on the field
our mascot is cooler than yours.
yes, I did cry as Purple Haze started to play. #sappypirate
Our next game that we'll be attending is the ECU vs. UNC game at Chapel-Hill on 9/22 and I cannot wait. Road trip games are always a blast.