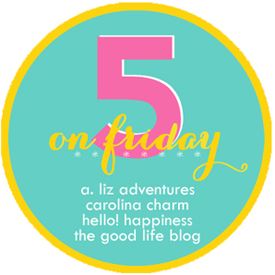 ONE
I am so excited because
"Sawyer Weekend"
is officially here! I have an American Cancer Society training thing early tomorrow morning but as soon as that is done, we are hitting the road around 11am to start the festivities. It's so funny too because we have been struggling with where we want to eat dinner Saturday night. We wanted a "kid-friendly" place but weren't really sure where to go when all of a sudden Sawyer mentions "
when are we going back to that place where the magicians cook on the table?!"
we had
zero
idea what he was talking about until we realized he meant a Japanese steakhouse (I guess their chef hats look like magician hats?) so it looks like we will be enjoying
Kanki
in Raleigh Saturday night! We are chomping at the bit to tell Sawyer about the big weekend, but are patiently waiting until tomorrow morning.
so much excitement ahead!
TWO
As I
mentioned before
, October is a
super
busy month at work but thankfully one big event is over and one more will be done Monday night! I hate to wish away an entire month but these cankles and my giant swollen legs are totally over having to support this belly of mine at so many events and meetings! Only two symposiums, one graduate fair, and one career fair to go!
ew.
THREE
This past weekend, our homecoming weekend at ECU, I was watching the homecoming parade with my friends Hope & LP and we took a selfie. Well, a university photographer captured the moment and it made it in the homecoming slideshow on our website. #wefamous
FOUR
Speaking of football games, we don't have another home game until Thursday, Oct. 23 (a night game) and I do believe that will be the last one I am able to go to. I sadly had to go down at halftime during our homecoming game because the sun was BRUTAL and I was so tired and hot I could barely function. I hate to miss watching my Pirates play (and tailgating with my crew), especially since I will most definitely be missing our Nov. 22 home game, but little future Pirate is more important than my current Pirates (who are playing
so awesome
right now!).
FIVE
Anyone else a huge American Horror Story fan? The fourth season started Wednesday night with this year centering around a traveling "freak show" and it did not disappoint. However, I am
absolutely terrified
of freaky clowns so the show's villain "Twisty" the clown has been haunting my nightmares already.