My sister Deanna married her long-time love John Moody (hence the fun bach party hashtag) on June 6, 2015. But before that, we celebrated her upcoming nuptials with a quick, fun bachelorette party in Charlotte, NC!
After having so much fun at my friend Hope's bachelorette bash wayyy back in 2011 (
part 1 and part 2
), I knew Charlotte would be a great place to plan another bach party that wouldn't be so far away or require an entire weekend (we were limited to just one night).
Deanna, the other bridesmaids, and I left my parents house Saturday April 19th for Charlotte and made a quick stop in Downtown Raleigh to have some brunch at
Busy Bee
Cafe. We sat in the roof-top dining area and it was a gorgeous day! I highly recommend the crack tots.
roof-top dining at Busy Bee
via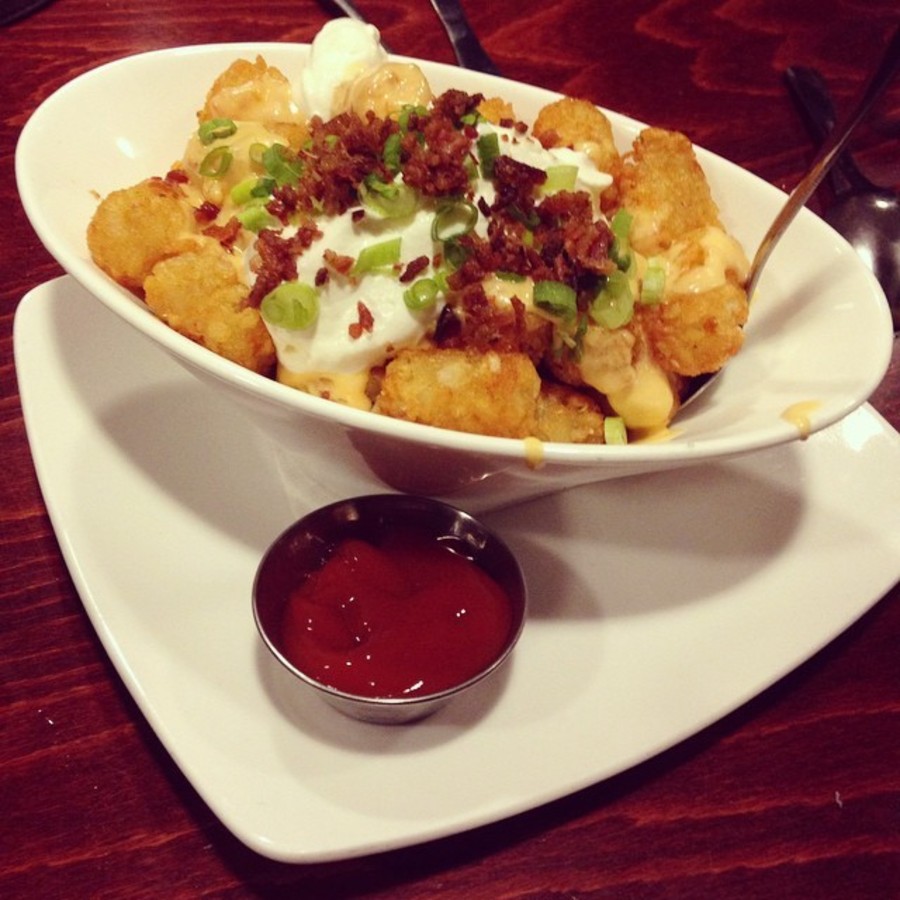 "crack" tater tots
via
the beautiful Bride-to-Be at Busy Bee!
After a long drive to Charlotte
(where Dee's bridesmaids got to meet Road Rage Lauren)
, we checked into the hotel and my ever-so-unprepared sister realized she had completely forgotten her hanging bag which contained her outfit of the evening. I had brought two outfits so Dee wore the dress I had brought (that I really wanted to wear, but hey, what are sisters/MoHs for?). Coincidentally it was the same dress I wore to her 21st birthday dinner!
We quickly changed clothes and headed to Peculiar Rabbit in the Plaza Midwood area of Charlotte for dinner. If you've never been to Charlotte, I highly recommend researching all the fun neighborhoods. Plaza Midwood has a ton of great restaurants (such as Peculiar Rabbit and Soul Gastrolounge) and was a little closer to the uptown area where we were staying. We wanted to try something a little more "Charlotte-y" instead of just a chain/super touristy spot in the Epicentre.
Dee and Me at dinner
We sadly didn't get to sit in the rooftop area, but check out the awesome view from their deck!
Following dinner, we went back to the hotel for a lingerie shower for Dee where we thoroughly embarrassed her by making her model all her gifts.
isn't she stinking precious?!!
the Bride and her maids before heading out
We had another round of freshening up before going to Howl at the Moon, a super fun piano bar with great live music!
At Howl at the Moon, we hit a major hiccup. One of the bridesmaids, Kayla realized she had left her ID at home and we watched the bouncer check
ever. single. person's. ID.
at the door to the bar. She apologized and said she would just go back to the room but we weren't having it. I just happened to have two versions of my driver licenses (one with my address in Macclesfield, and another with the Tarboro address), so we decided to just see if she could pretend to be Lauren Edmondson long enough to get in the door. We knew it would be a long shot considering Kayla looks
nothing
like me, is about 7 inches shorter than me, and definitely doesn't look like she could be 27 years old, but IT WORKED. That bouncer glanced at the ID, made no comment that
another
Lauren Edmondson had just walked in the door, stamped her hand and sent her through!
We had a fabulous time dancing, singing at the top of our lungs, and celebrating Deanna the rest of the night.