My absolute favorite thing to order at the Cheesecake Factory isn't a glorious, cheesy dessert - it's their Orange Chicken.
It is absolutely to-die-for but since it is pretty pricey and the nearest Cheesecake Factory is in Raleigh (about an hour away) - I decided to find a similar recipe to make for Joshua and I.
I tweaked this recipe a little from
the original
at Blog Chef because I couldn't find a few of the ingredients locally and because I don't like onions - also, this recipe is a LOT easier to make than one would think, especially if you have a fry daddy.
So without further ado, I present
Orange Chicken
.
Ingredients:
Chicken
2 lbs boneless skinless chicken breasts (cut into 1-1/2" cubes)
1 ½ cups all purpose flour
1 egg
¼ teaspoon salt
¼ teaspoon pepper
Oil (for frying)
Orange Sauce
1 ½ cups water
2 tablespoons orange juice
¼ cup lemon juice
2 ½ tablespoons soy sauce
1 tablespoon grated orange peel
1 cup packed brown sugar
½ teaspoon minced ginger
½ teaspoon garlic powder
¼ teaspoon red pepper flakes
3 tablespoons cornstarch
2 tablespoons water
Directions:
1)
Combine flour, salt, and pepper.
2)
Dip chicken in egg mixture and shake in flour mixture to coat.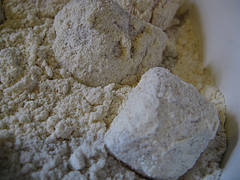 3)
Deep fry chicken in batches until completely cook (I use my fry-daddy, but you can fry them up in oil in a frying pan too)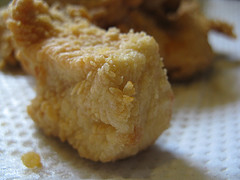 4)
In a large saucepan combine 1 ½ cups water, lemon juice, orange juice and soy sauce.
5)
Blend well over medium heat for a few minutes then stir in brown sugar, orange zest and ginger garlic.Bring to a boil.
6)
In another bowl combine 3 tablespoons of cornstarch with 1/4 cup of water and mix thoroughly.
7)
Slowly stir cornstarch mixture into sauce until it thickens.
8)
Pour sauce over breaded chicken, and if desired add red pepper flakes.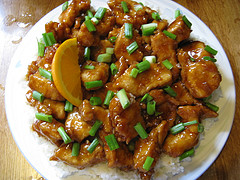 This person added chives - I don't.
The hardest part is just cutting up the chicken to fry I swear. It tastes GREAT over white rice and I make it with Gluten-Free flour and soy sauce so Josh can eat it too without feeling yucky.