Since I am recovering Sawyer's old crib bumper and making curtains and a skirt for Baby Edmo No. 2 to use in his nursery, I realized I also needed to get a new mobile to match the transportation theme and to match the fabrics I chose for the bedding.
I looked and looked for a cute car mobile that included a school bus, airplane, and other little traffic-related things but I just could not find one I liked within my budget. Then I discovered this precious felt mobile on Etsy (
at Drops of Color Shop
):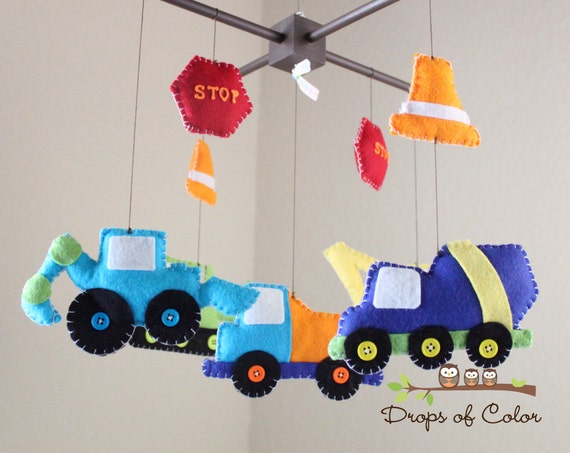 My first thought was, "
do people actually spend $95 on crib mobiles?!"
And my second thought was, "
Hey, I could totally make one of those."
So I hit up Pinterest and searched for "DIY Felt Mobile" until I found a great tutorial by
Jess at Craftiness is Not Optional!
I went about my mobile-making a little differently, but stuck to her ideas on how to make it happen.
Felt (the big sturdy sheets work better than the flimsy smaller ones)
Hot glue gun
Templates (aka Google-d images of what you want, printed on cardstock)
Needle & Embroidery Thread (embroidery thread is heavier and holds the felt together better)
An old mobile (or you can follow Jess' directions for how to make one)
Cotton Balls
Determine how large you want your mobile pieces to be and print out "templates" of what you want them to look like. I made mine about 4 inches long by 2 inches wide and printed them on heavy cardstock for better trace-ability. Cut out each individual car or shape.


Using a straight pin or your sewing needle pin your shape to the felt and trace around the edge. Move the shape to another area of your felt and trace again. Now cut out your two traced shapes, making sure they line up equally when placed on top of each other.



With your needle & thread (obviously), sew the two identical shapes together around the edges. Now, I am the world's worst sewer. My stitches are unequal and I got my dumb needle tangled a million times, but I think that it makes my shapes quirky and gives them a homemade charm. DO NOT sew all the way around your shape, leave a good little inch gap where you can add your "stuffing" later.






Once you've sewn almost the whole way around with a nice little inch gap for stuffing, pull a cotton ball apart a little to make it less ball-shaped. Once you have fluffed up your stuffing, start putting the cotton inside your shape. I used about 4 cotton balls for each shape.






Now that you have your shape, you can add little details. I chose to hot glue the windows, wheels and etc. on my little cars but you could also sew them if you'd like. Make sure you cut out accent pieces for both sides of your mobile shape since mobiles turn!

pieces before accents

pieces with (a few) of the accents added

I used Sawyer's old mobile frame for this mobile so I just needed to get my little shapes onto ribbon so they could hang from the mobile. I measured my ribbon then sewed it about an inch from the bottom to the center of my shape.



After I made sure the shape hung right from the ribbon, I hotglued the bottom part of the ribbon beneath the stitch to the part of the ribbon above the stitch.



Then I just looped the ribbon through the spots on my mobile and hotglued the ribbon together to stay! I added little accents like the traffic cones & stop signs to cover the edges of the glued ribbon at the top and the little stoplight to the center.
Sawyer has re-discovered his love for his baby mobile and wants to "listen" to it play constantly, hence the only picture of the completed project having him in it.
I might eventually go back and add headlights and taillights to the fire truck and school bus, and maybe get some little alphabet stickers to spell "STOP" on the stop signs, too.