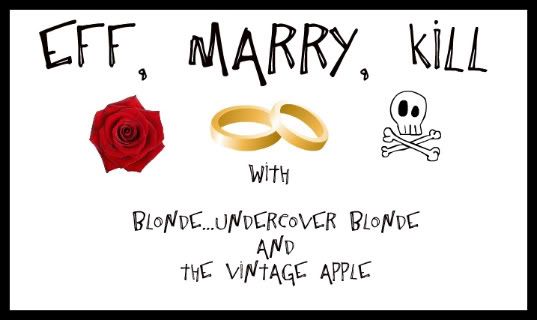 I am SO glad that these lovely ladies brought back this link-up!
So here is my Eff, Marry, Kill - True Blood Edition
And yes, it was ABSolutely
(haha, see what I did there?)
to find shirtless pictures of all three. yum-o.
Eff - Jason Stackhouse - he is just delicious, and while he is quite the lady's man, he isn't really into settling down, therefore he is just eff-able.


Marry - Alcide Herveaux - He just seems like a big, strong protector man, and such a teddy bear, except you know the whole "wolf" thing. And just look at him.


Kill - Bill Compton - For some reason he seems a little pathetic to me, and whiney and I hate the way he says "Sookie" for some reason.
Also, if you've never watched the show, you should not only do that, but also read the books (
The Sookie Stackhouse Novels by Charlaine Harris
) they're even better. Be warned though - True Blood is a little hardcore - lots of sex, blood and
rock & roll
language
What about you? Which ones would you eff, marry or kill.