read part 1 here
...When you walk through our living room there's a nice large entry way to our kitchen.
I am still working on a few things I want to do in here (in other words, I am waiting for some Hobby Lobby gift cards in my stocking and hopefully Santa brings two rugs).
I made the table runner from some Hobby Lobby fabric and wonderful Heat Bond tape for the hemming
(because I sure can't sew)
. I just spray-painted the silver chargers I already had a nice bronze color, bought the napkins and little topiary tree things at
Target
and found the cute succulent napkin rings at
ZGallerie.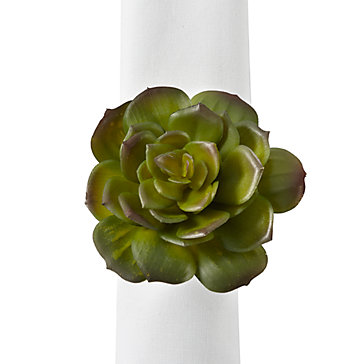 close-up of the napkin rings from ZGallerie
better view of the napkins (this is actually the table runner in the same fabric)
My favorite part of my kitchen - besides
finally
having a
dishwasher and pantry
are the things i have hanging on either side of the front window.
That big smudgey thing on the top left is a mirror that needs cleaning
bad
, the two picture frames are old ones that I just spray-painted to match the new color scheme (green, red & yellow), I found the "Roll With It" print at
Over the Big Moon
and just made some color changes, the key came from Hobby Lobby and I made the chevron/Joshua 24:15 printable. That big red sun was once my Mema Kay's, I had it in the back bedroom in the old house and I am
so
glad I got to paint it and put it somewhere more visible now!
For the right side of the wall, I used a metal flower sign from Hobby Lobby, spray painted an old frame red, covered a wooden "E" in the same fabric as my table runner and used an existing frame for the picture of Sookie. That big red fork (which came the Hob Lob)? It totally fell off the wall and every one of his tines broke off, praise God for hot glue guns. I think it needs a wooden spoon to go underneath, thoughts?
Between the two walkways (one that leads to the play room and the other that leads to the living room) I have my old china cabinet. I spray painted (are you sensing a theme here?) one of my tall flower tub things bronze and got some flowers from the Hobby Lobby, along with some candles and a little owl figurine (which I also spray painted). The big "E" picture was a wedding gift from Josh's step-grandma and didn't really match much in the old house, so I was happy to finally have a place to hang it.
and finally - a PANTRY!
We also have a nice desk area and laundry room right beside the pantry but
woof
, it needs some work. Right now it is still storing some unpacked boxes and a bunch of mess, I need a weekend to dedicate to that area.