We had a semi-busy weekend...
Friday we ate dinner at Josh's parents where we celebrated both my birthday & Josh's granddaddy's birthday and opened some presents.
I was super pumped because I got the ECU Tom's I wanted!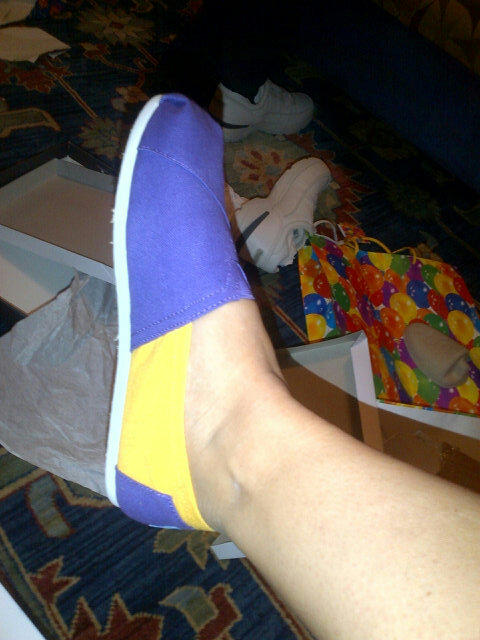 and also the Storm Trooper t-shirt I wanted #scifinerd
Saturday we had our first night game of the season against UTEP and it was a miserable day weather-wise. Misty, wet and windy usually aren't the best conditions for tailgating and football, but we made it work. Forgive the pics, took them with the CrackBerry.
Chris & Samuel "helping" with the food
Notice that we had a make-shift tarp held up with a sketchy piece of wood on the flip-cup table.
food.
Pirate Ladies minus Hopey (missed you!)
the band performing by the stadium, caught the dancers mid-hair-flip obviously
me and Kate
crazy haze during warm-ups
wet and blurry
They halted the game right before half-time and made everyone evacuate the stadium for awhile. And of course, everyone's husbands were accounted for... except mine. He got separated from the group and none of our calls would go through, finally he texted Chris to let us know he'd found shelter under the stadium and was hanging there. When they finally let everyone back in, it was still raining and I was already sniffly and stopped up. So I voted to catch a ride home while Josh rode out the rain and watched the rest of the game, which we won 28-18.
When I got home and started washing the dishes from the game, I discovered that my poor little fondue pot (which was holding sausage dip) was scorched terribly on the bottom. Note to self: No more thinking it can go on the grill to warm the dip up.
Sunday we had homecoming at Josh's parent's church where Sawyer thoroughly enjoyed (as did the rest of us) some awesome food and fellowship after the sermon.
Sawyer and Josh's mom at church
Then, after church we took all families to see the new house. Here is another sneak peek of the front of it!
First of all, no Josh and I did not plan to wear the same shirt and didn't even realize we were matching until we got in the car to go. Second of all, can we pretend that my husband does not have on Sperry's with his gym shorts? He forgot shoes.
Also, that door will be dark purple by the time we move in instead of red.