I have yet to grow a bump big enough to distinguish between being pregnant and just eating too much breakfast, but I am looking forward to accessorizing my growing baby belly.
I don't plan on spending a lot of money on maternity clothes. While I can usually talk myself into a $350 Lilly dress or a $150 pair of jeans, it's hard to justify a $100 dress I will only be able to wear for a few months.
My main plan once the bump takes over is to just wear staples and mix up the accessories like a different scarf or sweater and different shoes and jewelry.

Josh's step-aunt Jennifer gave me lots of pants so I am set in that department (thank god she's tall like me) and a wonderful maternity pea coat, but I think I am going to REALLY love wearing lots of flowy dresses & tights/leggings with flats & boots.

Luckily, a lot of my dresses from fall of last year were flowy and roomy enough to wear again this year with a bump and maternity tights.
I bought this dress from NY&Co last year in three colors: teal, orange & black, it'll be perfect with flats or boots and a big belly!



This great dress from Motherhood would be an asset to my closet because I can wear it now when the weather is still a little warm and with tights and a sweater when it gets cooler.



Old Navy has great (and CHEAP) maternity outfits like these:

Here's a fantastic sweater that I could wear over the maternity t-shirts Jennifer gave me.



Yet another flowy-tunic style dress in one of my favorite colors



I adore this top. It could be dressed up or down and was on sale for $9 so I got it in the dark green and burnt orange.



And these are the only pair of pants I have bought so far. I figured the denim leggings would look good under my longer and fuller tops.



Maternity store A Pea in the Pod has wonderful clothes but they're a little pricey for me. This sweater dress is awesome because it accentuates the bump, but it also accentuates my tiny bank account with its $250 price tag.
I think I'll be able to find a cheaper version elsewhere.

Target's maternity section is amazing. Most of their dresses cost around $30! Check out this "Moody Mama" dress for $19.99



Gap also has a great maternity section. They are the only site that I really found tops I liked. (I'm not big on the billow-y top, I like the more belly conscious ones).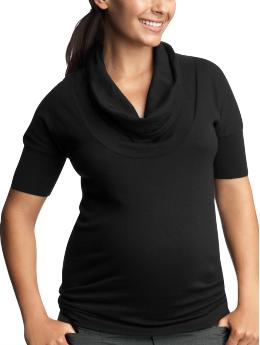 This one would obviously need a sweater, but I LOVE it.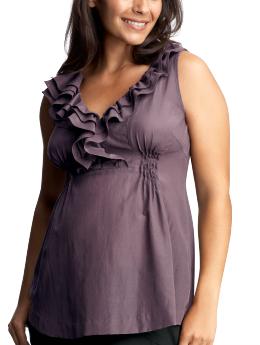 I am really looking forward to my little bump looking like an actual baby bump so I can dress accordingly without just stretching out my current jeans and constantly re-wearing the same shirts.