Saturday we spent the day in Chapel Hill supporting our Pirates against the Tarheels. Now, as I said before, I am a
big-time
Tarheel fan
during basketball season
. But during football season I'm a
Pirate
all the way (despite the loss we suffered at the end of the game).
We met our friends at their place in Raleigh then made the trip to the Hill and tailgated with our friend Ryan's uncle who has a nice tailgating spot beside the hospital in a parking deck. This was different for us since we park in a wooded lot in Greenville and we are SURROUNDED by other fans from the minute the lot opens (
six
hours before game time) - in Chapel Hill there were very few tailgaters in our lot until right before the game began.
only other tailgaters in the lot?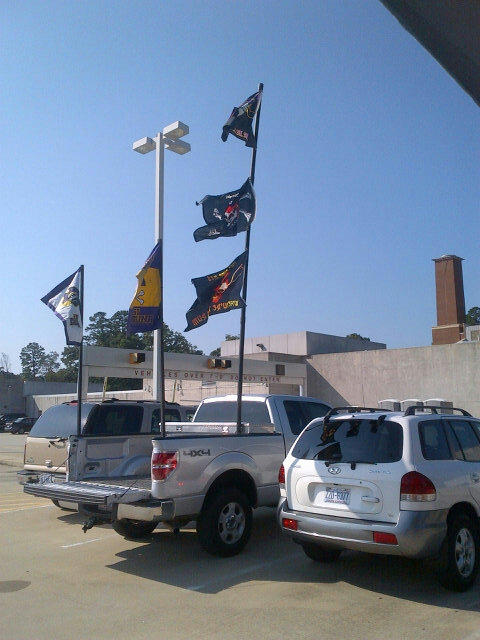 flying the Pirate flags high over Tarheel country!
mandatory ladies picture - missed you Kate!
first cup flipped at 10:30am
action shot of husband and bestie's husband during one of many flip-cup games
I wish we could bring food like this to our games, but sadly our guys don't care much about eating... it usually just goes to waste! But they had a great setup at this game for sure.
bestie love.
me and Joshua, with some bad lighting.
Once we got in the game I was pretty surprised by the
lack
of fans in the stadium, I guess I'm just used to a packed house at Dowdy Fick as soon as the team is ready to come in, not the case in Kenan. This may not be the case every game there, just something I noticed during this particular one...
Also lacking?
KNEE SPACE!!
I guess the stands aren't made for
long-legged people
.
We did get to see some of the Tarheel basketball players at the game which made Josh's day!
that's James Michael McAdoo in the shades!
some of the other players and assistant coach
Can't wait for our first night game of the season this weekend! Sawyer is going to tailgate with us awhile then his Mimi is picking him up before the game.